1)Delete IDCORE Bluetooth Pairing on your iPhone
2)Delete the pairing with your iPhone on the IDCORE box. (You can find the paired devices in the IDCORE setup menu – Bluetooth menu – Paired devices).
3) Restart your iPhone
4) Go to the IDCORE menu – SETUP menu – SMART PHONE menu – Reboot interface box.
5) Go in to SETUP menu – BLUETOOTH menu on the IDCORE box and try to re-pair from the IDCORE box.
Ensure apple device is set to CarPlay.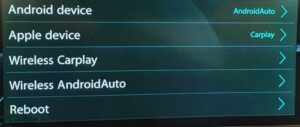 Ensure Bluetooth is ON and Visibility is ON.
(If you can't switch the Bluetooth visibility to ON, please go into paired devices, delete all the paired devices and try again. )
Please note, Bluetooth name cannot be changed from IDCORE. If changed then connection issues will occur.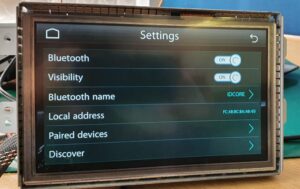 Find IDCORE bluetooth on your iPhone's bluetooth menu and click connect to IDCORE bluetooth.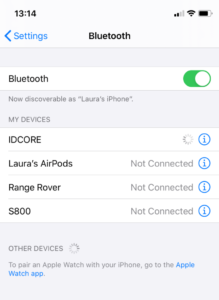 If you have connected via Bluetooth but CarPlay has not loaded go to SETUP menu – Bluetooth – paired devices and toggle between "WIFI Carplay" ON and "Disconnect" and this should force Apple CarPlay to connect. When you see a green icon on top of the screen meaning Apple CarPlay is connected. On the iPhone, Bluetooth menu, you can also tap on IDCORE Bluetooth name a couple of times.